Stardom, a brand from Raidon Technology, Inc., announces Thunderbolt3 RAID storage ST4-TL3+, comes with dual Thunderbolt3 (ISB-C) (40Gb/s) and one RJ45 (10Gb/s) interfaces, can support both hardware and software RAID.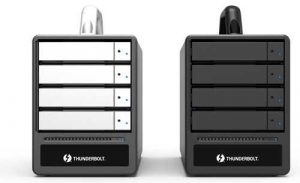 The ST4-TL3+ storage supports four 3.5" or 2.5" HDD or SDD and comes with dual Thunderbolt3 (USB-C) interface, the data transfer rate up to 40Gb/s, it is four times faster than USB3.1 Gen2 (10Gb/s). Embedded one hardware RAID chip inside, it provides RAID-0/1/10 and JBOD function. With Graph User Interface (GUI), user can set the RAID level depending on the application. If using JBOD mode, it means that PC/Mac will recognize ST4-TL3+ as four independent drives, user can set software RAID groups by the OS such like Windows or macOS, or by the software provides by the 3rd party.
Click to enlarge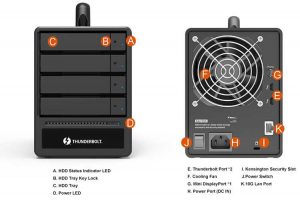 For Thunderbolt notebook with limited transmission port (one or two ports) and can internet access via WiFi, ST4-TL3+ provides one standard RJ45 LAN port which transmission rate supports up to 10Gb/s, to provide stable network access for notebook, eliminating the need to purchase a 10Gb LAN adapter. Only need one cable can access data and have stable network quality at the same time, and also can keep the Thunderbolt Daisy Chain function, which means except ST4-TL3+, it can connect up to five Thunderbolt devices.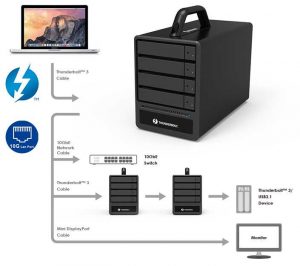 At the rear side, ST4-TL3+ has one Mini Display port for user to connect second monitor to it for monitor extension. Each Thunderbolt3 port supports USB Power Delivery and provides up to 15W (5V/3A) to recharge the notebook or other devices when using it. It also comes with the firm's standard aluminum handle for user to move the storage easier.
Features:
Two Thunderbolt3 (up to 40Gb/s port)

One RJ45 LAN port (Support 10G/5G/2.5G/1G/100M Base-T)

One Mini Display port for 2nd monitor extension

Hardware RAID controller inside

Support RAID-0/1/10 and JBOD

Support four 3.5" or 2.5" SATA drive

Drive hot-swappable

Support 15W (5V/3A) USB power delivery

Support Windows and Mac

Aluminum chassis and handle