Stardom, a brand from Raidon Technology, Inc., announces the MS2-TB3 M.2 NVMe SSD external enclosure design in light and thin, easy to carry, and comes with 2 Thunderbolt 3 interfaces.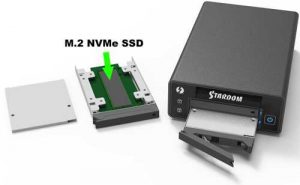 It can install 2 M.2 NVMe SSDs, supports JBOD and software RAID-0/1, and provides the transmission speed up to 2,600MB/s.
The MS2-TB3 has 2 Thunderbolt 3 interfaces, and the transmission bandwidth is up to 40Gb/s, which is 4 times faster than with USB 3.2 Gen2.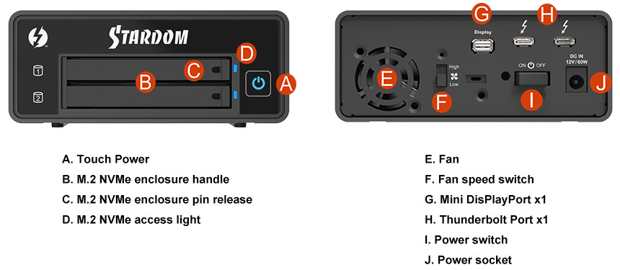 It can install 2 M.2 NVMe SSD, and the performance is up to 2,600Mb/s, takeing 40s to transfer the 100GB 4K high-quality video. Whether it is to playing 4K high-definition video files, data searching or photo editing, all can bring users enjoyable video and audio quality. Besides, after connected to MS2-TB3, it can be connected up to 5 devices through Thunderbolt 3's daisy chain function.
MS2-TB3 provides 2 trays that can support 2280 M.2 NVMe SSD. It makes replacing the M.2 NVMe SSD easier and more convenience, ans also protects M.2 NVMe SSD fixed in place and not be extracted. In addition, the aluminum casing design provides the heat dissipation that makes the M.2 NVMe SSD functioning can be remained stable during the long term work. It also built in the silent fan that can keep the device within a certain temperature without affecting the performance and work efficiency under the long time use. It also provides the fan adjustment function, so that users can adjust the fan speed manually to high or low speed to reduce fan noise.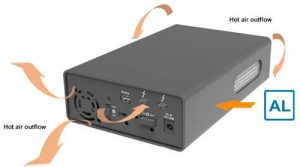 The MS2-TB3 has a touch power on the front panel. As long as the user turns on the power switch on the back panel and can turn on or off it through the touch power. It also has the special design for power off to prevent users to mis-touch power accidentally.
It is stylish, lightweight and portable. It provides the transmission performance 4 times faster than USB 3.2 Gen2. The efficiency transmission speed saves users a lot of valuable time. This is a choice for the professional users who need to move data to go and work for a long time outside!
Read also:
Stardom (Raidon) MR2-B31 2-Bay 2.5-Inch HDD/SSD USB 3.1 Gen 2 Type C RAID
With 4 RAID modes
January 20, 2020 | Press Release
Stardom (Raidon) SR4-SB31+ 4-Bay USB 3.1 Gen 1 RAID Appliance
With one e-SATA and USB Type C interfaces, can support data transmission and provides 24W USB power delivery for notebook charging and one Display Port for 2nd monitor expansion.
November 4, 2019 | Press Release
Stardom: ST2-B31+ 2-Bay USB 3.1 Gen 2 Type C Storage With USB PD and DP Function
Provides also one Mini DisplayPort to extend with second monitor.
September 13, 2019 | Press Release
https://www.storagenewsletter.com/2020/03/05/stardom-ms2-tb3-for-two-m-2-nvme-ssd-external-thunderbolt-3-enclosure/