Stardom, a brand from Raidon Technology, Inc., announces the SR4-TB3 Thunderbolt 3 RAID storage with dual Thunderbolt 3 interfaces and hardware RAID chip inside.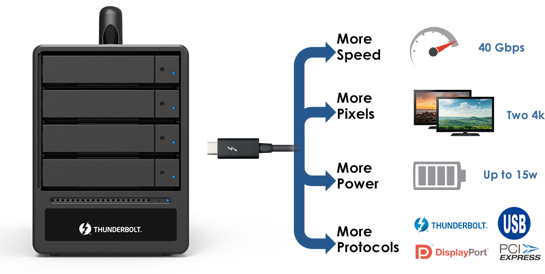 The SR4-TB3 supports four 3.5" or 2.5" HDD or SSD, comes with dual Thunderbolt 3 ports, the data transfer rate will be four times faster than USB3.1 Gen2. It also supports daisy chain to connect up to six Thunderbolt devices through one cable. Embedded one hardware RAID chip inside, SR4-TB3 supports the RAID-0, 1, 5, 10 and JBOD.
With GUI, user can set the RAID level depending on the application and monitor the storage status. Once the RAID is degraded or failure, SR4-TB3 will provide buzzer alarm notification and send email to user.
It supports Serial General Purpose Input and Output (SGPIO) function. Once there is one drive damaged, user just needs to click the 'light on' function on GUI, the LED of the damaged drive will lights on automatically to let the user know the location of the failure drive. It's easy for user to replace the failure drive.
For those users who need low-noise work environment, SR4-TB3 provides the fan speed control switch at the rear side. User can set the fan speed manually to full speed or half speed to reduce the fan noise.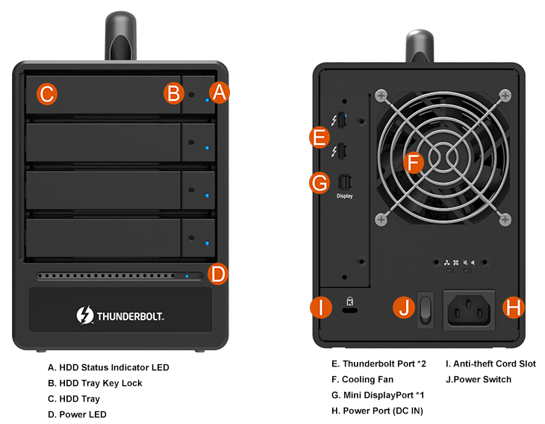 SR4-TB3 feature:
Hardware RAID that works between Macs and PCs

Equipped with five configuration modes to suit every need

RAID-0/1/5/10/JBOD

Thunderbolt 3 (USB-C) brings 40Gb/s data transfer speed

Support four 3.5"/2.5" SAS/SATA drive

MCU feature to provide in-chassis temperature control

Thunderbolt 3, the USB-C that does it all

Support 15W (5V/3A) Power Delivering

Mini DisplayPort connect DVI, HDMI, VGA display devices
Read also:

Stardom Thunderbolt3 Storage ST4-TB3 System Support Hardware and Software RAID

4 bays for 3.5/2.5-Inches 6Gb SATA HDD/SSD with two Thunderbolt3, one MiniDisplay port, hardware RAID controller inside, supporting Windows and Mac
2018.02.08 | Press Release
https://www.storagenewsletter.com/2018/03/29/stardom-sr4-tb3-thunderbolt-3-raid-4-bay-storage-system/