STARDOM, a brand from Raidon Technology, Inc., announces the DR2-TB3 Thunderbolt3 RAID storage, with Thunderbolt3 interface and hardware RAID chip inside.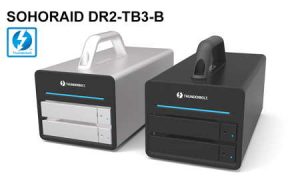 The DR2-TB3 hardware RAID storage supports two 3.5" or 2.5" HDD or SSD and comes with two Thunderbolt3 (Type-C) interface, the data transfer rate will be four times faster than USB3.1 Gen2. User can connect second monitor to the MiniDisplay port for monitor extension.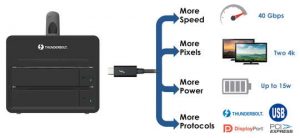 It also supports daisy chain to let you connect up to six Thunderbolt devices through one cable. The two Thunderbolt3 (Type-C) interface support USB power delivery, provide up to 15W to recharge other devices. It also comes with the firm's standard Aluminum handle for user to move the storage easier.
Embedded one hardware RAID chip inside, DR2-TB3 provides three RAID level - RAID-1, RAID-0 and JBOD, user can set the RAID level depending on the application. By using SSDs, the performance can reach 750MB/s. (results will vary depending on the test environment and the drives)
Click to enlarge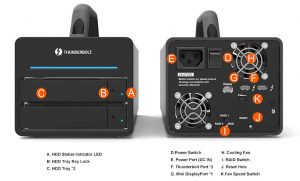 Features:
Two Thunderbolt3 (up to 40Gb/s/port)

One MiniDisplay port for 2nd monitor extension

Hardware RAID controller inside

Support RAID-0, 1 and JBOD

Support two 3.5" or 2.5" SATA drive

Drive hot-swappable

Support 15W (5V/3A) USB power delivery

Support Windows and Mac

Aluminum chassis and handle
Read also:
Stardom DR8M-TB3 1U RAID Thunderbolt 3 Storage System With Eight 2.5-Inch SAS/SATA Drives
With dual Thunderbolt 3 interface and one Mini Display port, and with hardware RAID chip inside
2018.02.21 | Press Release
Stardom Thunderbolt3 Storage ST4-TB3 System Support Hardware and Software RAID
4 bays for 3.5/2.5-Inches 6Gb SATA HDD/SSD with two Thunderbolt3, one MiniDisplay port, hardware RAID controller inside, supporting Windows and Mac
2018.02.08 | Press Release
https://www.storagenewsletter.com/2018/03/16/two-bay-hdd-ssd-dr2-tb3-thunderbolt3-raid-portable-system-by-stardom/