Stardom, a brand from Raidon Technology, Inc., announces 2.5″ drive tray adapter, screwless and hot-swappable which can support the range of the company's 1, 2, 4 and 8-bay products.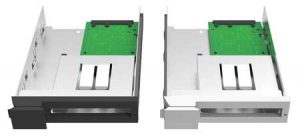 These 2.5″ drive tray adapter supports plug and play and hot swappable. User can install 2.5″ HDDs with screwless to fix in the storage device strongly, and can extract the drives out while the storage device is on.
This makes storage usage more diverse and convenient. It is suitable for the range of the firm's 3.5″ products. The 2.5 drive tray adapter also can save time for post-production procedures. It can complete the workflow to reading or editing from 2.5″ SSD, and backup to 3.5″ RAID storage directly.
The 2.5″ drive tray adapter is available in silver and black color, and compatible with most of company's products.

Features
Support 2.5″ SATA HDD/SSD

Hot-swappable

Support plug and play
Screwless

Interchangeable and compatible for 1, 2, 4 and 8-bays products